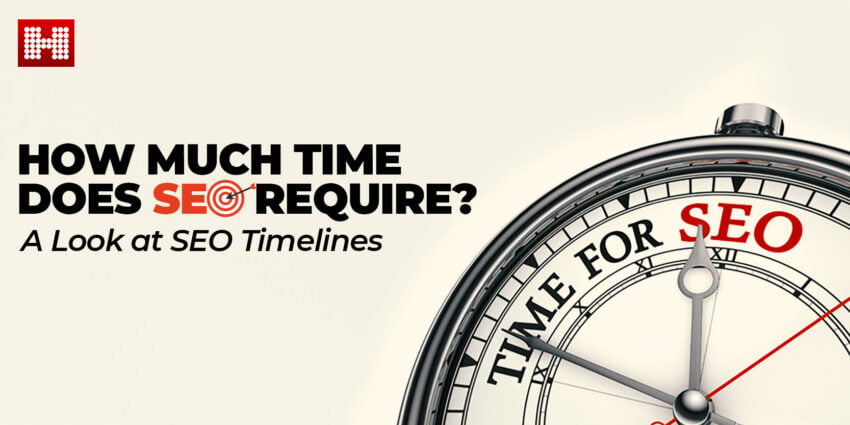 SEO refers to the continuing practice of making your website more search engine-friendly. The time it takes to see benefits from SEO might range from three to six months, depending on many different aspects of your website.
In this article, we will look at the SEO timelines to see how long SEO takes to give good results. So, keep reading!
How Long Does SEO Take and Why?
Results from SEO take three to six months to manifest. Sometimes, it may take up to a year to see consistent progress from SEO. The rankings and traffic will not improve overnight with SEO; it will take time and effort.
Since SEO is an organic process, results take longer to manifest. While other digital marketing techniques can increase your traffic instantly, SEO is a continuous process that demands consistency.
Google must first find, crawl, and index the pages, which takes time. It will start indexing the new content you upload to your website to understand what it's about and what search queries it addresses. You have no power over this organic process.
Implementing SEO best practices across all of your pages also takes time. Despite your wanting to make all your modifications at once, Google needs to see changes over time to establish the legitimacy of your website. Additionally, it takes time to write, edit, and publish new content regularly.
What factors determine how long SEO takes?
SEO is trackable, even if the results are not instant. The length of SEO depends on the following elements:
Your Website History
Older websites have a better probability of ranking because they have been around for a longer period of time. Although there is no direct connection between domain age and SEO, Google must have enough time to index your website. The longer your site has been online, the more time Google has to index it.
Even new domains can rank highly! That implies that Google will take in more data about your website at once.
Competition
The rankings you receive over time may change depending on your competition. Making a few SEO adjustments may take longer in a sector with intense competition than in a more niche market.
A competitor study can assist you in understanding your market and potential timescale.
Resources Devoted to SEO
Your timetable will differ depending on how much you invest in SEO. Your chances of ranking are better the more money you put into SEO. Some businesses cannot afford to invest all their resources in SEO and wait for results.
SEO Strategy
Understanding which adjustments have the most significant effect is essential to SEO. You can spend months focusing on the incorrect SEO characteristics before changing your approach. This feature of SEO makes it necessary to continually assess your strategy and ensure everything is operating as intended.
Working with a seasoned SEO company guarantees you'll always have an immense impact.
What occurs in months 1-6 of a typical SEO timeline?
The best way to comprehend the duration of an SEO strategy is to view it month by month using an SEO timetable. Let's examine the first six months of your strategy and what it might entail.
1. Month 1
During the first month, you should have investigated and identified the ideal SEO agency for you. These are some of the elements that your first-month SEO strategy will focus on.
Research
SEO experts will begin by learning everything they can about your brand. Since every business is different, this information is essential.
Your SEO will investigate your sector, its level of competition, your particular specialty, your rivals' online presence, and more specialized issues like crucial sector keywords.
Your SEO effort will benefit from all of this information. In-house SEO may require less extensive research because you are already familiar with your business. In that situation, you can assess the market and look at competitors.
Website Audit
When accepting you as a customer, your SEO company will evaluate your site's structure, the existing content, and the user experience.
The top SEO agencies will also perform an exhaustive SEO or website audit. Through this process, they can identify opportunities, analyze the content, and establish a plan for a comprehensive SEO campaign.
Keyword Planning
You can rank in search engines by having content. However, you need to make pages that target the internet search terms your audience uses to get your content to rank in search engines. Because of this, keyword planning and research are crucial components of the SEO process.
It aids SEO professionals in determining the range, quantity, and nature of the keywords you should target.
2. Month 2
Remember that the tasks above do not necessarily take a month to complete. Depending on the quality and status of your existing website, your SEO company could begin work on topics that typically take place in the second month during the first month.
The following are a few steps that should take place during the second month of your SEO campaign.
Website Modifications
More technical SEO effort usually starts in the second month. To ensure that you rank higher in search results, your SEO team will access the back end of your website and make the necessary adjustments.
The modifications must line up with your website audit. For instance, you don't need to pull an alt-tag report and modify your picture alt tags if they are currently excellent. Update the site's meta descriptions, though, if necessary.
Your website might require a complete SEO makeover if it's outdated or you purchased it from someone else. This procedure alone may take months. If your website needs a complete makeover, you will typically learn from your SEO agency within the first month.
Ensure Responsive Design
With responsive design, users will enjoy their visit to your website regardless of the device they use to access it. Users viewing your website on a smartphone or tablet won't see it the same way they do on a desktop computer if it is not responsive.
The site will be more challenging to browse, and buttons may get cut off or fill the entire screen with graphics. Your marketing manager will check if your site is responsive at this point in the game because it also affects your site rankings.
3. Month 3
The magic begins to unfold during the third month. That is the point where the content comes into play.
Keyword Selection
Before creating and implementing content, your SEO team will filter the lengthy list of keywords (they obtained during the first month) down to the ones they wish to target.
Different types of content work well with various keywords. Long-tail keywords and generic keywords are two examples.
Generic keywords often have one or two words and define a comprehensive subject. Long-tail keywords typically have three or more words and are more focused. These keywords target a very particular demand and are relevant to your niche.
Despite having lower monthly search traffic, long-tail keywords bring in more quality leads to your website, the ones most likely to buy your goods or services. High search volume and low competition are advantageous when it comes to choosing keywords.
As you can see, choosing keywords before generating content involves a lot of considerations. Because of this, creating content can take up to a month or even more, depending on what your website requires.
Content Creation
Content generation is one of the most crucial aspects of an SEO plan. As you can see, choosing the precise keywords to target with your content requires some thought, but once SEO strategists have them, it is time to start writing.
Similar to keywords, there are various types of content. In the third month, your SEO company will match each keyword with particular content that will be most effective for each topic.
The types of content include long-form content, blogs, and typical product and service content. Your marketing manager will identify the content your site needs at this stage of the SEO campaign and develop the best strategy for it.
Businesses might generate content stuffed with keywords in previous years, but Google has grown wiser since then. Your website's content must satisfy user intent and keyword use for it to rank.
It is best if this content appears on your website as soon as possible. Google can index and rank it in search engines as soon as it becomes online.
You shouldn't anticipate seeing your recently posted content in search results within the first week, but after a month or two, you might start to see that well-written content ranks at least someplace in search results.
4. Month 4
The fourth month is when your SEO campaign starts to pay off. You should see a slight boost in site traffic and a rise in site ranks by this month.
However, that does not imply an SEO team's work is over. They'll keep adding content, address technological problems, and ensure every aspect of your website works flawlessly.
The ongoing creation of new content and technical SEO strategies like link building is crucial throughout this month to maintain the SEO momentum. Building authoritative links is essential for your SEO because it demonstrates to Google that other highly authoritative websites believe your content is trustworthy enough to connect to it.
5. Month 5
Your SEO effort should start producing tangible results by the fifth month. The number of visitors to your website should improve, and you might even see an increase in sales. It indicates that your campaign is having an impact and can help you determine whether it is successful. What activities will your SEO agency be engaging in this month? Let's see!
Leveraging Your Social Media
Typically, at this point, your SEO company would reconnect your social media profiles to your website if they weren't previously. Your marketing manager might be able to recommend an excellent social media marketing company to assist you with this phase if you don't already have social media profiles that support your brand.
Scrutinizing Current Results
Analytics about your campaign are some of the most crucial facts that an SEO company will report to you, the client, as part of their primary job duties.
While the SEO experts would track your campaign at every stage, it's about month five that you can start noticing a significant increase in traffic or conversions. Software like Google Analytics helps demonstrate the effectiveness of your strategy.
6. Month 6
Don't be disheartened if you are still not seeing the outcomes you were hoping to get. The factors mentioned above influence how long it takes to obtain organic traffic through SEO. However, if you had a typical situation, your SEO strategy should already give tangible results at this point. Congratulations if you're seeing a boost in visitors to your website! But now is not the time to give up. What your SEO experts will be doing in month six is as follows.
A/B Testing
A/B testing is a strategy marketers employ to examine various aspects of your website. For instance, your SEO may conduct an A/B test if they implemented a call-to-action (CTA) button but want to test a different version in a different color to see which performs best.
They can use this test to determine which variant of a particular element performs better and add that version to your website.
Heat Map Testing
Using heatmap testing on your website is another test that marketers may employ. This test reveals how far a user scrolls down a specific page before abandoning it. Additionally, it shows the most popular clicking locations and might help you decide whether you need more interactive components above the fold.
Are you prepared to launch your SEO campaign?
Running an SEO strategy with a partner is much easier. Let Hashe streamline the procedure and generate data-supported outcomes for your business with our SEO services.
We oversee the entirety of your SEO strategy using advanced tools and experienced professionals. With our assistance, you can skip the guesswork and dive right into SEO, which can enhance your search results over time.
Request a free quotation today to find out what Hashe can achieve for your business!
Keep following us for more tech news! Check out our Social Media Pages
Was this helpful?
Click on one of the buttons to rate this post. Your choice cannot be undone, but you can change your mind at any time.
Last Modified: November 24, 2023 at 11:45 am