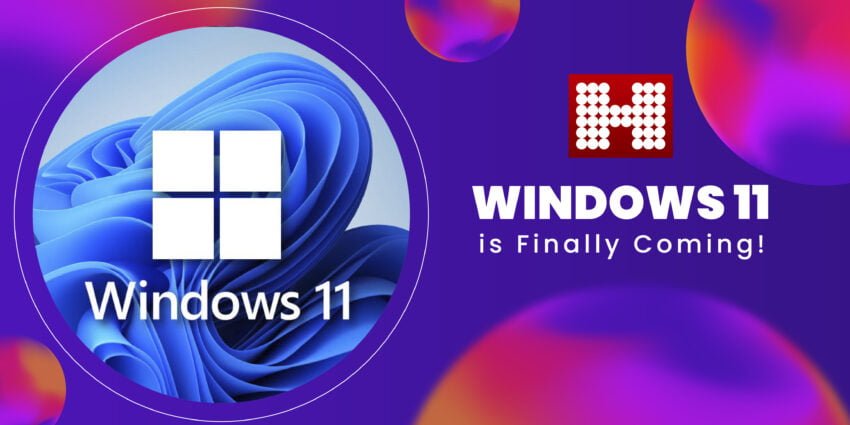 Microsoft has constantly claimed in the past that Windows 10 will be the last version of Windows and there will be no major release in the future, instead, all the new features will be incorporated in the 10th version with a biannual update system. The overall success of the 10th version also 'seemed' to hint at this very notion, 'reinforcing' Microsoft's idea of "windows as service". Who knew Microsoft was actually 'secretly' preparing to 'surprise' us with a surprise release? Despite all Microsoft's claims, many people still believed that it is going to be released soon, with the internet flooded with a lot of fake news about its release date and installation. But now we are going to get the real Windows 11!
What's next for it Windows 11
Microsoft announced "What's next for it" at its Microsoft event held on 24th June 2021, making an official announcement of it after a week of leaks and hype, releasing the first Insider Preview build to the Dev Channel.
The Dev version featured the main changes and improvements in the design, visuals, user interface, and most importantly, the app store. The finer, validated, and more stabilized version, 11th Version Insider Preview Build 22000.100, was released in the Beta Channel and made available for download on 22nd July 2021. The company came to know about some issues pointed out by the Insiders in the Dev Channel. Apart from those, the beta version is almost similar to the dev version.
The latest build, as of now, is the 11th version Insider Preview Build 22000.160, which was released to everyone in the Dev and Beta Channels on 19th August 2021. If you are currently running the dev version, then switch to the beta version of it for a finer and stable experience but make sure that your PC meets the requirements for installing this new OS. However, keep in mind that it is not the full and final version, and you may encounter some issues. The full version of Windows 11 is set to release in October 2021.
Features of Windows 11: What's New?
Now, what are the important features and improvements in Windows 11? Following are the new key features in it:
A Fresh and Calm Interface: Windows 11 features a clean Mac-like interface with rounded edges and a centered Start menu on the taskbar.
Integrated Android Apps: One of the amazing features of Windows 11 is that you can now run android apps on it that can be downloaded and installed from the new Microsoft Store.
Widgets: This version includes widgets that you can personalize and easily access from the taskbar.
Xbox tech and Gaming: Windows 11 will provide an improved gaming experience by incorporating some Xbox console features such as DirectStorage and Auto HDR.
Teams built-in: Windows 11 has integrated Teams that you can access directly from the taskbar. With a big upgrade in the Teams software, you will be conveniently and quickly able to launch Teams video conferencing.
Improved Virtual Desktop Feature: Similar to macOS, you can now simply switch between different virtual desktops for personal, school, work, or gaming use and efficiently keep them organized.
The transition from Monitor to Laptop Made Easier and Enhanced Multitasking: The OS introduces new multitasking features, Snap Groups and Snap layouts, which allow easy grouping of apps and windows for better organization. You can minimize the whole snap group at the same time for convenient task switching, and it will remain in place.
What are the requirements for installing Windows 11 on your PC?
Microsoft has specified the requirements for running Windows 11 on the PC. These requirements, however, are subject to change. The minimum requirements for Windows 11 are as follows:
Processor: 1 gigahertz (GHz) or faster with at least two cores on a compatible 64-bit processor or SoC
RAM: 4GB
Storage: 64GB
System Firmware: UEFI, Secure Boot capable
TPM: Trusted Platform Module 2.0
Graphics Card: DirectX 12 or later with WDDM 2.0 driver
Display: 720p resolution, 8-bit per color channel, at least 9-inch diagonal
Internet Connection and Microsoft Account: An active internet connection and a Microsoft Account are required to complete the initial, first-use setup of the operating system, or when switching a device out of the 11th version Home in S-mode.
Windows 11 Release date: When is Windows 11 Rolling Out?
Microsoft, at the Windows 11 launch event, declared that Window 11 will start rolling out in the holiday season. With that, many people speculated it to be out sometime in October. A recent blog post confirmed the initial release date of Windows 11 to be 5th October 2021. The OS will be available as a free download for the existing Windows users, and the PC users with the 10th version will be able to have a free upgrade to the 11th version in 2022.
However, if you are a Windows 10 user, you can get access to the Dev or Beta versions of Windows 11. But keep in mind that these are just the early builds, so you must consider the possibility of encountering more bugs in them.
How will you get Windows 11?
Windows 11 will be free for eligible PCs. Your PC must meet all the requirements for running Windows 11. However, Microsoft has now revealed this launch to be "phased and measured with a focus on quality". According to that approach, the new devices will be upgraded to the new OS first. On the other hand, the other eligible devices will be offered a free upgrade by mid-2022. Depending on the factors such as the age of the device and your hardware. The new laptops and PCs will, however, run Windows 11 with its launch on October 5.
So, if you won't be able to upgrade your PC on October 5, 2021. Even if it has all the requirements for running Windows 11. Then there is no need to fret! You will eventually get the free upgrade!
What about Windows 10?
Many people still regarding the 11th version to be similar to a Windows 10 feature update and nothing much different. Moreover, Windows 10 is still going to get biannual updates up to October 2025. With that, it is perfectly fine if you don't want to upgrade to Windows 11. Windows 10 is still doing its job perfectly anyways!
Wrapping Up!
Ever since Microsoft's declaration that the 10th version will be the last version of Windows. Many people thoroughly believed that the 11th version would come out someday. It seems that their speculations were right! After many years of fake news and speculations, Windows 11 is finally rolling out next month!
Also read: One of the best eCommerce website development companies in Indianapolis 2021
Keep following us for more tech news! Check out our Social Media Pages
Was this helpful?
Click on one of the buttons to rate this post. Your choice cannot be undone, but you can change your mind at any time.
Last Modified: August 2, 2023 at 7:09 am