We Have Creative Team For All Your Digital Art Painting & Illustration Service Requirements!
Caricature Entertainment, Graphics, Logos, CT Caricatures, Illustration, Cartoons, and Digital Art
Hashe is one of the prominent companies which provide Digital Art & Illustration services including caricature, illustration, and cartooning. Each project is catered to our customer's precise requirements and marketing goals. We also offer Caricature Entertainment with our fun caricature artists for your next party or event!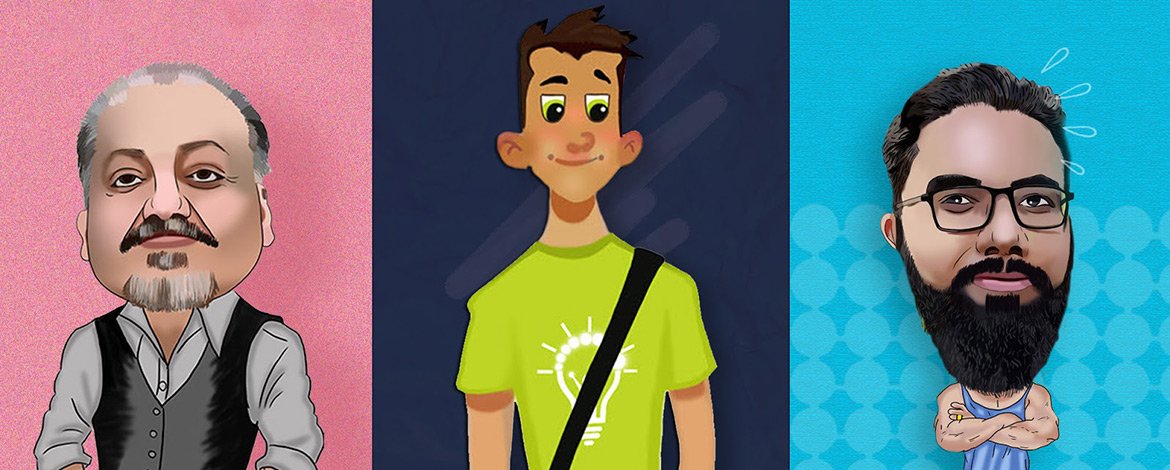 Types of Digital Illustration
Services we offer
Caricature
Entertainment

Graphics
Design

Motion Graphics
and Animation

Illustration

Illustrative
Logos

Social Media Videos,
and Animations

Cartoons and
Caricatures

T-Shirt
Graphics
Custom Pet Portraits
and Pet Caricatures
Social media graphics, animations, and videos
Get Professional graphics and/or artwork for your business, social media pages, and business or personal website.
Art and creativity garner the attention of maximum people. With that in mind, we strive to provide gripping artwork, creative animations, and engaging and informative videos for your social media, blogs, and personal websites, intending to help you boost your marketing initiatives. Consequently, you will attract more prospects and customers, ultimately getting maximum engagement.
Custom illustrations, caricatures, and graphics
We produce high-quality and effective illustrations, caricatures, cartoons, and graphics for a wide range of purposes (for online and offline purposes, web, and print).
We're fast, reliable, and highly experienced in producing quality work with real flair. Every drawing, graphic, or animation that our artists produce is entirely unique, created especially for you to your specifications and marketing needs. From quirky illustrations to use in promotional materials for your business to a clever caricature of a friend as a gift, right through to funky designs specially created to be printed on t-shirts or for any other purpose. Our drawings can be anything from accurate representations to humorous cartoons. It's up to you.
We can help your company achieve its goal for any project, including illustrations for print, the internet, and/or multimedia. Illustrations are essential for getting your message across to your target audience. They also allow you to tell your story and reach your customers. Sometimes a photograph just can't express what needs to be said.
Our illustrators can give your print or online projects a professional polished look. Adding an original illustration to your packaging or project can really give your product that extra degree of distinction and make you stand out from your competition. Illustrations are often applied to websites, print advertising, multimedia projects, animations, logo design, brochures, posters, book illustrations, patent and scientific illustrations, and many other projects.
Logo Illustrations
Every business is different and needs a unique insignia to stand out among its competitors. A unique brand logo is, therefore, necessary for establishing your brand recognition. Considering this, our designers utilize their experience and expertise to create a distinct logo that gives a unique brand identity to the businesses. We believe that a company's logo should speak for itself!
Augment your brand recognition with a unique and creatively designed logo!
Caricature entertainment
Make your next party or event – one to remember! – with the fun Caricatures. Everyone gathers around as their peers get drawn in a humorous fashion and take part in the fun and laughs. FUN for kids and/or Adults! We do corporate events, wedding receptions, kids parties, marketing events, grand openings, birthday parties, sweet 16's, bar/bat mitzvahs, and many more… We also do custom caricature illustrations from photos. They make a fun and unique gift!!!