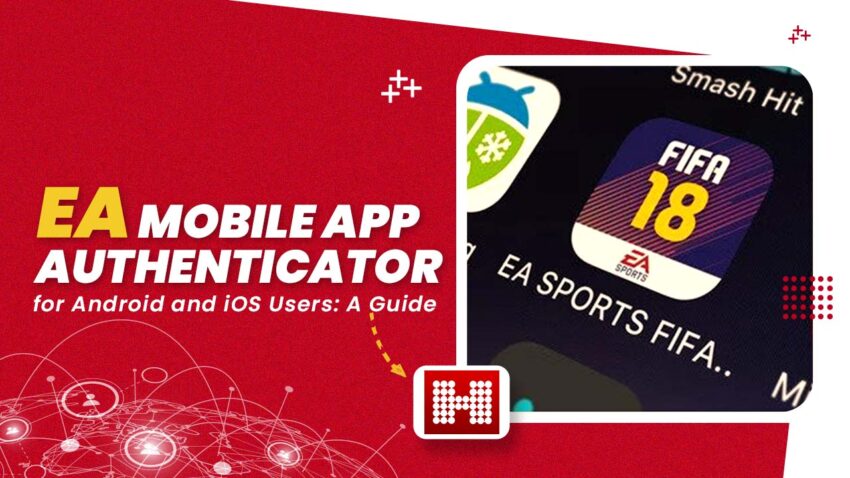 An app authenticator permits the installation of an authentication app on your mobile phone to create verification codes. These apps add two-factor authentication (2FA) to your accounts, offering extra security while logging in. Many authenticator apps, developed by expert Android and iOS mobile app developers, are available for that purpose.
Now, you can conveniently play EA games on your Android or iOS device without any worry of verification procedure using an EA authenticator app. For that, you can conveniently set up your EA account and link it with the EA mobile app authenticator. If you don't know it works, then don't worry! Because here, we are going to tell you how you can use EA mobile authenticator on Android and iOS mobile phones.
1.Create an EA Account
Firstly, download an EA app authenticator from the official website of EA. Then, create an EA account to get started with it. One of the ways to set up your EA account is to download Origin. After downloading, open the app and click on 'Create an account'. You can also register your account using the EA website.
While creating your account, you will be required to give some information to the app, including your email address, password, public ID, date of birth, and country. Make sure that you enter all the required information properly. Also, it is advisable to add the email you always use so that if you ever forget your password, you can conveniently recover it.
2.Use Login Verification for Additional Security
The next step is to add two-factor authentication to your new EA account. The 2FA login verification keeps your account extra secure by sending you a code whenever someone tries to log into your account from an unknown device. That implies that you need to verify your identity when accessing your account from a new device. In that way, the app will recognize you and let you log in.
Now how can you add login verification to your new EA account? For that, click on the 'Accounts' option in the EA help within the app, followed by selecting 'Account Security'. Then, go to 'Login Verification' and click the button to turn it on. You will have to answer some security questions there, after which you will choose the method you want for receiving the verification code. In case you want to receive the code via an authenticator app, select 'App Authenticator' and click 'Continue'. After choosing the app from the pull-down menu, install the Google Authenticator app by scanning the EA app authenticator QR code. Enter an account in the authenticator app and scan the QR code. Besides, you can also enter the secret key from the 'Set Up an App Authenticator' option. Lastly, click 'Save' to clink your app with your EA account.
3.Manage the Safety & Security of Your Account
Management of your EA account security and safety is crucial. For that, you need to set a strong and unique password. You can make your account more secure by making your account's questions hard to guess. Furthermore, your login verification will provide additional protection on EA services. You should always access your EA account with trusted devices only and never share your account information with anyone. Also, adding a secondary email can be helpful in keeping your EA account safe and secure. The secondary email comes in handy in case your account gets locked due to the EA authenticator's wrong email messages or any other issue. Asking assistance from the EA app authenticator can also help solve the email problem.
4.Accessing the Hacked Account
If your EA account gets hacked despite all the security measures, then you can access your account and make it secure again. If you can log into your account from your personal computer, clear the browser cache to delete the web information, including old passwords. After that, you can reset your EA account's password. You must ensure that your new password is totally different from the previous one and incorporates numbers, special characters, and letters. Also, you need to change the password of your email. Furthermore, remember to turn on your account's Login Verification to strengthen its security.
In case you are not able to recover your EA account by any means, you can contact the EA official team via the 'Help' page on the app. While registering your complaint, make sure you use your account's original email address, username, or console associated with your account and any invoice numbers from games bought via Origin. Moreover, consult the EA support team if you face problems regarding the working of your EA app authenticator.
Conclusion
You can now play EA games conveniently without worrying about the verification process, thanks to the EA mobile app authenticator. Besides, it can also completely protect all your online accounts. You can create an EA account and easily link it with your apps. So, create an account and reap the benefits of this incredible app!
Need your own authenticator app? Get seamless and robust authenticator mobile apps for Android or iOS devices, developed by our expert mobile app developers. Contact Hashe for the best IT solutions and services.
Keep following us for more tech news! Check out our Social Media Pages
Was this helpful?
Click on one of the buttons to rate this post. Your choice cannot be undone, but you can change your mind at any time.
Tags:
Last Modified: August 2, 2023 at 6:49 am