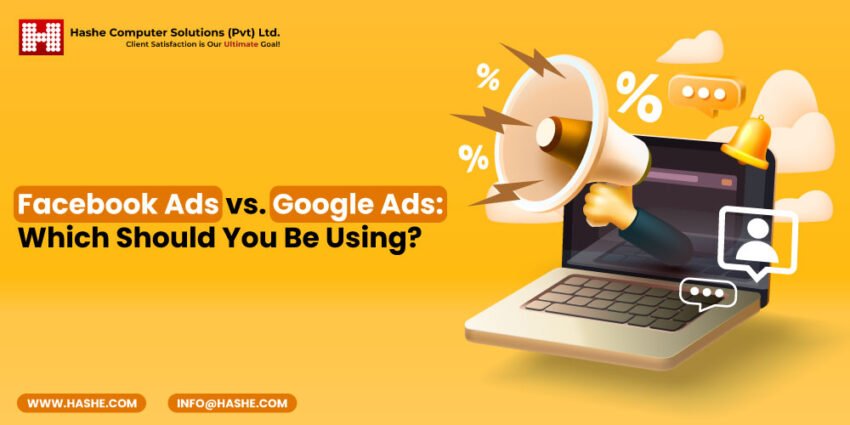 One of the biggest concerns of both offline and online businesses is how they can effectively market their product and services. Whether your business is small or big, online or offline, if you are not using digital marketing platforms, you are missing out!
Digital marketing allows you to share your services and products with a niche audience, spread brand awareness, engage with your target customers and help them make buying decisions.
Social Media Marketing and Search Engine Marketing are types of digital marketing and play equally significant roles in shaping your digital marketing strategy, each offering unique benefits.
Google and Facebook ads use inbound marketing to help bring a targeted audience to your website.
Facebook Ads and Google Ads are dynamic advertising platforms that can facilitate almost every type of business. However, if you cannot decide which marketing strategy is better for you and will benefit your brand the most, you need to understand both Google and Facebook ads first.
Google Ads vs. Facebook ads
Facebook Ads and Google Ads are leading pay-per-click (PPC) ad platforms. First, you should develop a basic understanding of both ad platforms to evaluate which is better.
Google Ads: Paid search
Paid search / Google AdWords is a self-service, pay-per-click advertising platform. It enables businesses to launch and create display or search ads. Google advertising is a cost-effective marketing tool that helps brands appear alongside top-ranking search results against specific keywords.
The paid search focuses on using text-based advertisements and targeting keywords, which helps businesses to generate leads and increase sales. Google Ads is best for brands who intend to sell products or services. It helps find the right audience that is actively searching for the products and services you are offering.
Facebook ads: Paid Social
Paid social or Facebook Ads (also known as Meta for Business or Meta Ads ) are best for advertising something that interests your target audience. Facebook Ads is best for businesses that intend to market their product and let more people know about their business and offers.
Paid social focuses on using social media networks for advertising. With the highest number of monthly active users (or MAUs) of any social network worldwide, Facebook has become a potentially lucrative and highly competitive element of digital advertising strategies for many businesses.
Factors to consider when deciding which ad platform to use
Both Google Ads and Facebook Ads offer distinctive benefits to market your business and boost sales. However, you need to consider these three factors before choosing between these two Ad platforms..
Campaign Goal
You should clearly understand your campaign goal to decide which platform is best for you. Is it brand awareness, sales, leads, or something else? Getting an answer to this question can already steer you in the right direction.
Google Ads is ideal for you if you intend to reach users having high purchase intent. On the other hand, Facebook Ads help reach consumers for brand and product awareness. Therefore, it is totally up to you what platform you want to use and at which stage of the journey you want to target users.
No matter which type of ad campaign you opt for and what platform you use for it, the ultimate goal is to maximize your return on ad spend (ROAS). You'll have to look at keyword price and competition for Google Ads PPC. If you have a small budget and the keywords you want to target have high cost-per-click (CPC), it may not be the best approach for you to invest your money.
However, for the same budget, you might be able to reach more people through Facebook Ads and experiment to learn about which strategies work for your business and its target audience.
Moreover, You may consider using Tools like HubSpot's ads software. This software helps you to measure your campaign's ROI, thus allowing you to make adjustments to optimize your ads performance.
Historical and Competitor Data
Looking at historical and competitor data to devise your marketing strategy is incredibly helpful since knowing what has worked in the past and what hasn't can serve as a benchmark. In case you have never run a campaign before, looking at your competitors can help.
You should deeply analyze what ads they are running and where? What's their messaging? How do their creative assets appear? This competitive intel can help provide insight into the strategies of your competitors, highlighting some areas of opportunity for you.
Conclusion
Which marketing strategy works best for which business? There can never be a definite answer to the question because it will always vary depending on your requirements and goals. Facebook Ads and Google Ads offer distinctive benefits. Businesses can view these marketing platforms in a complementary, rather than adversarial, way.
Therefore, if you want to develop an effective advertising strategy, consider harnessing the power of paid social and paid search. However, ensure aligning your marketing strategy with the strengths of each respective platform. For more business growth and maximum ROI, it is vital to understand how to optimize your advertising needs concerning each platform.
Keep following us for more tech news! Check out our Social Media Pages
Was this helpful?
Click on one of the buttons to rate this post. Your choice cannot be undone, but you can change your mind at any time.
Last Modified: November 27, 2023 at 10:49 am