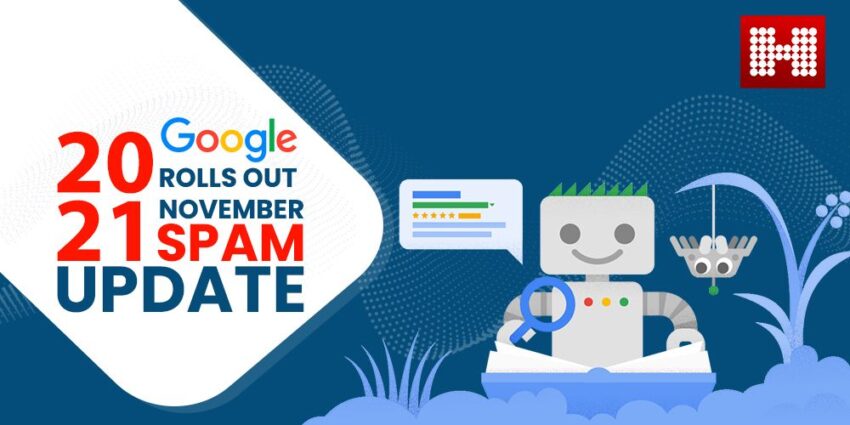 You may be affected by this spam update if you observe a noticeable change in the traffic or ranking from your organic Google search results Focus Keyword: Google
A new google algorithm update has started rolling out from November 3rd, 2021. The update, known as the November 2021 Spam Update, is aimed at tackling the spam. It will take a week to fully roll out and become visible in the search results. As a result of this new Google algorithm update, some websites may witness fluctuations in their ranking during and after the update's rollout. Especially the sites that make use of SEO practices that Google considers spammy may suffer a drop in rankings.
Google announced the rolling out of November 2021 spam update in the following words: "as part of our regular work to improve results, we've released a spam update to our systems. This November 2021 spam update should be fully rolled out within a week. We encourage sites to follow our best practices for Search." Google also linked its high-level Google webmaster guidelines..
This is the fourth Google algorithm update of this year targeted at spams. Earlier this year, three spam updates rolled out in the months of June and July. Due to these updates, Google's automated systems were able to keep more than 99% of visits from search results free of spam.
In 2020, Google's automated systems restricted the indexing of about 25 million spammy pages in the search result on a daily basis.
What can it target?
Websites that follow the webmaster guidelines do not have to be worried regarding this spam update. Under Google's definition, generally low quality websites that install malware are considered as spam. Similarly, websites guised as trust-worthy websites and phishing scams also come under the category of spam.
However, it is possible that websites that are following Google's webmaster guidelines can also become spam without even knowing it. For instance, a website that is not appropriately secured is prone to hacking, resulting in the website serving as spam or malware for the users without the knowledge of the webmaster.
With that said, the spam updates deal with both the hacked spam or deliberate spam in the same way. The annual spam fighting reports of Google evidently exhibit the rising hacked spam.
You may be affected by this Google spam update
You may be affected by this spam update if you observe a noticeable change in the traffic or ranking of your website from your organic Google search results. This update targets particular guideline violations. With that, it must be noted that Google did not specify whether it is about content, links, or any other kind of spam, but rather it is spam-related in general.
Furthermore, you may become affected this month with low rankings if your website is vulnerable. Since less secured and vulnerable websites are also deemed as spam by Google's automated system, if your website's ranking goes down abruptly, you should check your website's security.
Hashe is one of the leading software companies in Pakistan, which aims to provide top-notch software, mobile app, and web development. For more information about what we do and how we do and for top-notch IT consultancy, contact Hashe Computer Solutions!
Keep following us for more tech news! Check out our Social Media Pages
Was this helpful?
Click on one of the buttons to rate this post. Your choice cannot be undone, but you can change your mind at any time.
Tags:
Last Modified: August 2, 2023 at 7:09 am