Social Media
Marketing
Social media marketing is a tactic to increase brand awareness and a platform for global advertising of your products or services. Benefits of social media marketing, including:
Better brand identification
Ways to turn visitors into customers
Lower marketing costs
Increased inbound traffic
Market information competitive
Increased sales
Broad audience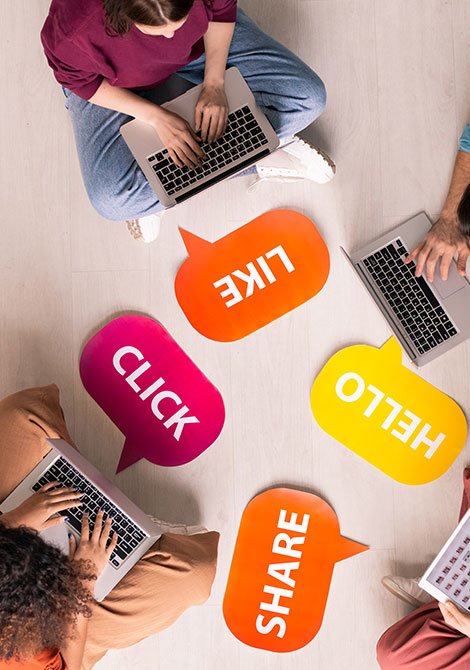 Hashe offers high-quality social media
optimization services that improve your
social position by introducing you to the
right consumers. We advertise your
business on social platforms such as
Facebook
Twitter
Instagram
LinkedIn
YouTube
and other social networks.
Twitter is the most attractive platform. Most people buy the services or products of the company they follow on social media. We help the company reach and connect with its target audience.
Our Strategy
Develop your audience
We not only create your profile on social networks, but we also optimize it according to current market trends. It allows your brand to reach the target group through our excellent tool practices.
Monitor and listen
Monitoring brand performance and customer feedback are as important as interacting with them. It helps to work better.
Connect with the public
After attracting a potential audience, our next step is to turn them into active prospects for your business. We believe you are sharing your content with the right audience at the right time to attract them.
Measure
We measure all positive and negative perspectives to determine the success of your campaign and plan the next step.
Growth
Business growth is the dream of every entrepreneur. Thanks to their strategies and tools, we find a new potential audience that can expand their brand by investing in their products or services.
Social Media Management
Packages (Monthly)
Basic
Social Media Posts
8 Posts / Month / Page
PRO
Social Media Posts
12 Posts / Month / Page
Costing
$1500
$3000
Social Media Posts
2/ week (8 per month) per page
3/ week (12 per month) per page
Social Media Videos
Once a month
Twice a month
Social Media Cover Photo
Once a month
Twice a month
Content Writing for every post, video ads etc
Included
Included
Discounts/ Offer/ Sales. Event/ Promotion
Not included
Included
Engagement Posts (Quiz, Contest, Guess, Quote, Contests)
Not included
Included
Social Media Creative Ads
Not included
Included
Monthly Reporting
Included
Included
Social Media marketing
Included *
Included *
One time (setup/ modification)  fee
200$
500$
* (subject to 15% Agency Fee on marketing spend budget)