Clutch Reviews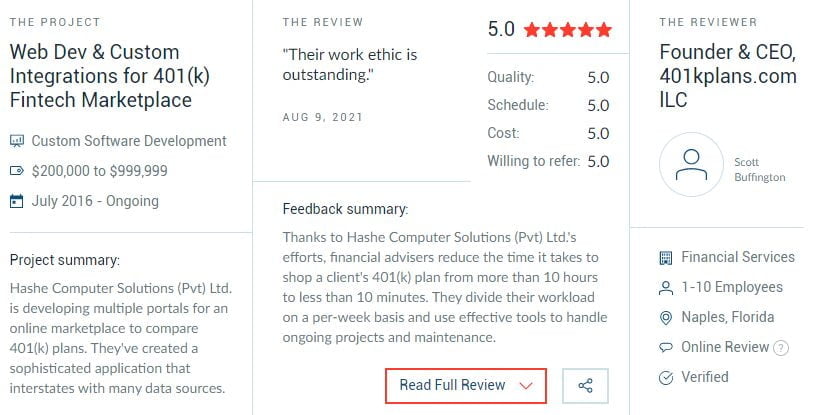 Hashe Computer Solutions (Pvt) Ltd. Acquires Latest Addition to Its Catalog of Clutch Reviews
Building functional web solutions with custom integrations can be an intricate and complex process. Commonly, advanced development technologies are employed to ensure the success of the project. But a skilled and experienced developer is required for superb execution.
Hashe Computer Solutions (Pvt) Ltd. is a global technology service and outsourcing company that provides you with the best, cost-effective design and development services. With over two decades of experience in the digital industry, we provide guaranteed exceptional solutions that won't break the bank.
Our work has been molded by cumulative practical experience as well as the feedback we've received from our clients. As they help us improve our approach, we're appreciative of the reviews that our partners have allotted the time to write.
Recently, we've earned the latest addition to our catalog of feedback on Clutch. For the uninitiated, Clutch is hugely respected within the B2B space for connecting small, mid-market, and enterprise businesses with service providers that fit their needs. Clutch carefully curates lists of the absolute best agencies and organizations by industry and location, simultaneously enabling companies to establish credibility and buyers to find the right services.
In his discussion with the Clutch team, Scott Buffington, Founder & CEO of 401kplans.com LLC, summarized our ongoing partnership with utmost accuracy and precision. He spoke about their goals and why engaging Hashe Computer Solutions (Pvt) Ltd. has been a monumental decision for their business.
"We found them [Hashe Computer Solutions (Pvt) Ltd.] through a referral. They had great references, were reasonably priced, and were willing to hit our deadlines. We were able to reduce the time it takes a financial advisor to shop a client's 401(k) plan from 10+ hours to less than 10 minutes."
The scope of work involved requires a sophisticated approach to interconnect multiple portals, a complex app, and various data houses. Our partnership with the client continues to flourish, but we're glad to see them satisfied with the results thus far.
Find out more about this project by checking out the full client feedback. You can also check out The Manifest, Clutch's younger sibling in providing valuable B2B insights to readers. We're included in Manifest directories as a top financial app development company in Pakistan!
Curious about how we can bolster your overall development process? Get in touch to learn more!
Was this helpful?
Click on one of the buttons to rate this post. Your choice cannot be undone, but you can change your mind at any time.
Last Modified: October 5, 2021 at 12:19 pm