A Beginner's Guide to CRM Systems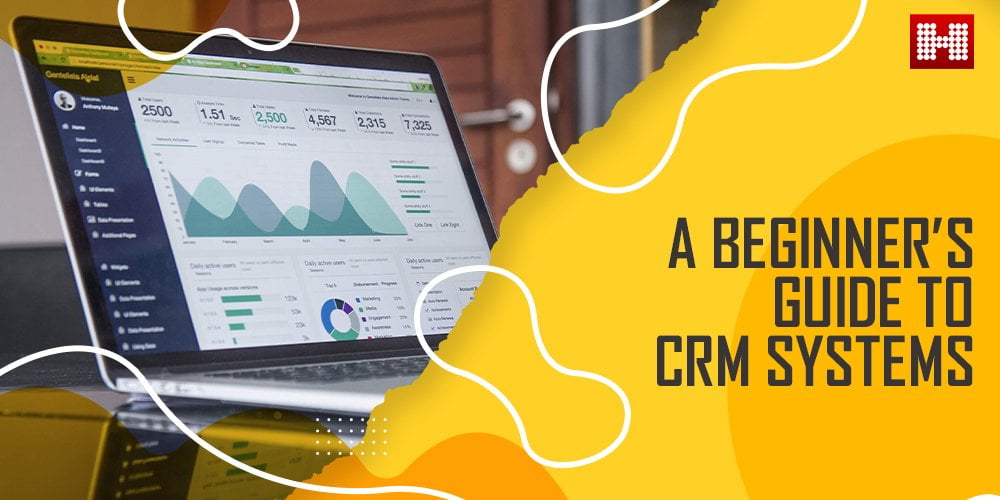 Management of customers' information and communication is crucial for any business, and the use of conventional methods for this purpose has now become outdated. Automation has integrated into almost every part of our daily lives. So, if you are still relying on old strategies and software, such as spreadsheet and date entry, for managing your customers' communications, then you definitely need an automated upgrade! You need to switch to CRM systems that are meant for convenient customer relationship management.
What is a CRM system?
Customer relationship management (abbreviated as CRM) is a set of methods, technologies, and strategies used by companies for the analysis and management of customer interactions and gathering data. A CRM plays a vital role in time management and establishing long-term relationships with the customers. Furthermore, they specifically aim at customer retention and sales growth by allowing businesses to know more about their target audiences and ways to satisfy them.
CRM software is designed for achieving the goal of effective customer interaction management and CRM marketing. With this technology, you can efficiently manage your relationship with your customers. Also, to deliver reliable and personalized experiences, ultimately leading to business growth. Besides customers, they can help you focus on your company's relationship with other individuals, including service users, suppliers, or colleagues. CRM systems collect data from several communication channels such as the firm's website, telephone, email, marketing material, and social media. One of the features of a good CRM is that it helps you manage customer interactions to augment customer loyalty and generate profits that will multiply your income.
Types of CRM Software's
There are three main types of CRM software: operational, analytical, and collaborative. However, there are some other examples of effective CRM systems out there that merge all three types.
1. Operational CRM Systems
The operational CRM systems are designed to make your business operations more efficient and optimized. As the integration and automation of marketing, sales, and customer support are their key objectives, their dashboard generally provides a view of all these three functions on a single customer view (a single page per customer). The dashboard keeps all the information of the relationships of the customers with the company, which includes the client information, previous sales, etc. Operational CRM consists of three major parts: salesforce automation, marketing automation, and service automation.
2. Analytical CRM Systems
As implied by the name, analyzing and evaluating the automatically collected customer data via business intelligence functions is the main purpose of the analytical CRM software. It then correlates the data with various contact profiles. Besides analysis tools, segmentation is another crucial component of this system. It lets the companies segment various contacts, customers, and leads from the customer data according to any criteria and, therefore, helps in building specific marketing campaigns targeted towards specific individuals. Comparing the contact data with action and campaign data and other figures will inform you about how your campaigns are working out.
3. Collaborative CRM Systems
The main objective of this CRM software is to provide better customer service. It facilitates efficient data sharing across different teams in your company which means different departments can exchange the information. That makes them perfect for organizations that comprise various departments. Besides, they also help in achieving CRM marketing goals of enhancing customer retention and loyalty.
Benefits of CRM Systems
CRM systems offer numerous benefits to salespeople, customer support specialists, marketing teams, and even freelancers. They are suitable for all large and small businesses. Let's have a look at some of their benefits.
Enhanced Customer Service: Although modern CRM systems have incorporated many features, it was initially designed for improving the relationship of business and customer. So, customer service is still their key advantage. When your employees have customer information within easy reach, they can provide better customer service, ultimately boosting customer satisfaction.
Organization: Organization is probably one of the greatest benefits of CRM systems. Since they contain, store and manage all the information in a single repository in an organized manner, it makes the information easier to access and track.
Improved Customer Retention: CRM helps the company to sort out your most engaged customers and encourage customer loyalty. Furthermore, it can enhance retention among your current customers. By tracking user behavior and customer support automation, you can figure out problems and immediately address them with your customers.
Increased Sales: Every company wants to increase its customers, and CRM marketing can help it to achieve its goal. They assist you in streamlining your sales process, analyzing your sales data, and managing other sales-related activities in one place, which can increase sales. When you already have CRM software, you can have a better insight into the latest trends and purchasing patterns. This can aid in developing strategies to boost sales at a particular time.
Sales Progress Tracking: Along with the customer relationship management, the CRM can also track sales progress across your organization.
Conclusion
To sum up, CRM has revolutionized the management of customer relationships and interactions. One must integrate it into his business to achieve maximum profits and customer retention, loyalty, and satisfaction.
Contact Hashe Computer Solutions for more information about how to make your business survive and if you look for an expert consultancy, go to the Consultancy tab by clicking on our services.
Also Read: Is It Safe To Invest In Cryptocurrency?
Was this helpful?
Click on one of the buttons to rate this post. Your choice cannot be undone, but you can change your mind at any time.
Last Modified: October 5, 2021 at 12:17 pm