5G Data Networks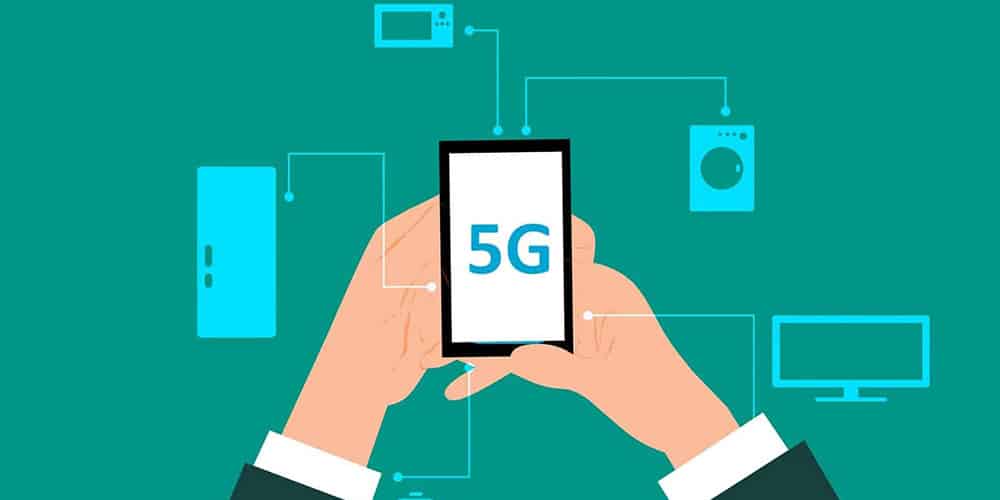 5G Networks are the fastest wireless Internet connection we know until now. Is the hype surrounding it justified? Will 4G LTE Phones work on it? Let's see below.
What is 5G Network?
5G is considered to be the next generation in-line for mobile Internet connectivity. It is well-grounded and fast, offering speeds no other network possesses.
5G consists of state-of-the-art technology with speeds scaling up to 1Gbps. It will alter technology as we know it and soon high-speed Internet will be common across countries.
But wait…
Is it all hype or 5G really has something up its sleeve? Let's look into it.
How does 5G Network work?
5G network infrastructure isn't that hard to understand.
Fifth-generation technology is a digital cellular infrastructure mapped over pockets of a geographical area divided into subsidies known as cells.
All cells must be interlinked and joined via a network stem and should be connected wirelessly or through fiber optic cables.
Due to the low power output of the signal transmitters, High-band 5G hardware needs to be clustered tightly to ensure continuous integration of 5G in the area.
Information is sent analogously via waves and the handheld device engulfs the information via an analog to digital converter.
5G networks use the same encoding as 4G LTE. It is called OFDM. The air interface is much more streamlined and robust for 5G in direct comparison to 4G LTE
The frequency remains the same throughout the cells.The local antennas are connected to the broadband service and voice network via optical fiber cables and the transfer of connection via cell transfer is done smoothly.
History of 5G
National Aeronautical and Space Agency (NASA) Ames Research Center laid the foundations of early 5G Adoption in a strategic alliance with Machine-to-Machine Intelligence (M2Mi) for its development.
Academics such as NYU and the University of Surrey worked effortlessly by leading multi-departmental research into 5G technologies. Government and private enterprises funded academic projects with the aim of implementing 5G within a decade.
An EU project "Mobile and wireless communications Enablers for the Twenty-twenty Information Society" (METIS) established a consensus on standardizing the 5G overview.
Another EU project by the name of iJOIN standardized the cell division and efficient resource utilization of the radio-wave spectrum propagated by 5G technology.
Companies such as Samsung successfully tested the first 5G data transfer protocols closely followed by strategic partnerships between countries such as India and Israel on the development of 5G technology.
The Award for the first country to adopt 5G went to South Korea which implemented 5G across the whole country on 3rd April 2019.
Types of 5G?
5G offers different approaches for wireless technology as compared to 4G. The fifth-generation technology is highly flexible, offering different ranges and frequencies.
5G technology is highly flexible and this makes the technology highly lucrative.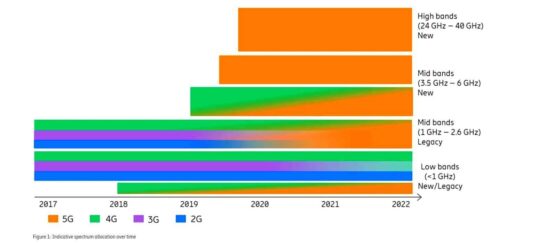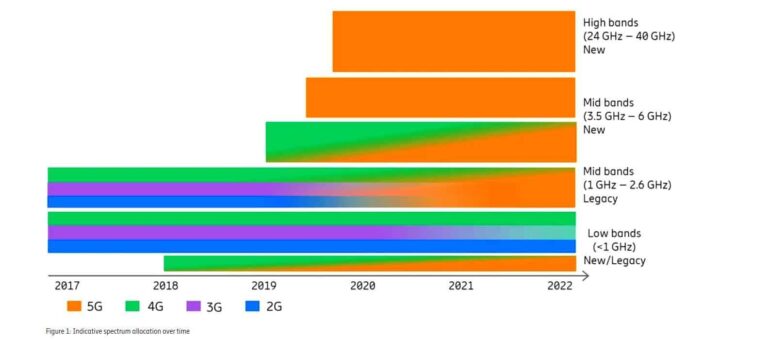 5G comes in three different bandwidths.
Low-Band
Mid-Band
mmWave High-Band
Low-Band
Low-Band is about 20% faster than the current 4G LTE Model. It operates in the same spectrum as 2G,3G, and 4G with frequencies ranging in the field of less than 1GHz.
It is one of the most common 5G services you will hear about these days with low-band covering a huge area and it isn't much of a difference when compared to 4G.
Services include:
Voice Services
Mobile Broadband (MBB)
Low Band's limited spectrum is its biggest weakness as well as high-demanding services and products need lots of room to play in.
Mid Band
Mid-Band is said to be 6x faster than 4G LTE. Mid-band has a lower footprint in relation to low-band technology.
It also operates in the same spectrum as 2G, 3G, and 4G. Mid-range bands typically operated in the legacy spectrum (1 GHz – 2.6 GHz) with the newly allocated spectrum ranging from 3.5 GHz TO 6 GHz).
These new bands are commissioned for mission-critical IoT applications and enhanced Mobile Broadband.
Mid-Band and Low-Band combine to form a comparative compromise on High-Band 5G, performing slightly better in indoor settings displaying maximum network improvement and ROI.
mmWave High-Band is the real deal and the most "5G" acting band out there. It provides the forecasted leap in speed and has the lowest ping compared to any technology out there.
The Spectrum in which High-band operates ranges from 24GHz to 40 GHz with bandwidth exceeding 100 MHz. It enables indoor and outdoor localized performance boost which enables Industrial IoT and really demanding broadband services.
The unused spectrum is highly promising for further development of technology
The Biggest drawback is it is located in a small area with 80 feet (24.4 meters) as its maximum coverage limit.
Here's is the thing that really halts any progress in 5G adaptability
5G bands have contradictory operating spheres. They don't get along with each other.
That is set to change with iPhone and Samsung planning on displaying all-band flexible 5G Smartphones.
5G Technology Is not New
Also, 5G technology's long-range waves have been deployed whenever radio stations needed to connect with extremely remote connections in rural areas and hard-to-go places.
They weren't utilized for phones or smartphones because of the lack of innovation in making radio antennas shorter and the processing power of phones couldn't handle the juice it provided.
Also, High-band waves are inversely proportional to the distance covered with a lot of investment required to make the broadband as viable for 5G connectivity.
5G Implementation
5G NR (New radio) was chosen to be the standard when it comes to 5G Technology.
Ericsson, a Swedish telecom giant predicted that 65% of the world's telecommunications will be done via 5G.
The Companies that are currently providing radio hardware for carriers and standalone models for 5g Operation are:
Samsung
Huawei
Ericsson
Nokia
Qualcomm
ZTE
Cisco Systems
Altiostar
Datang Telecom Group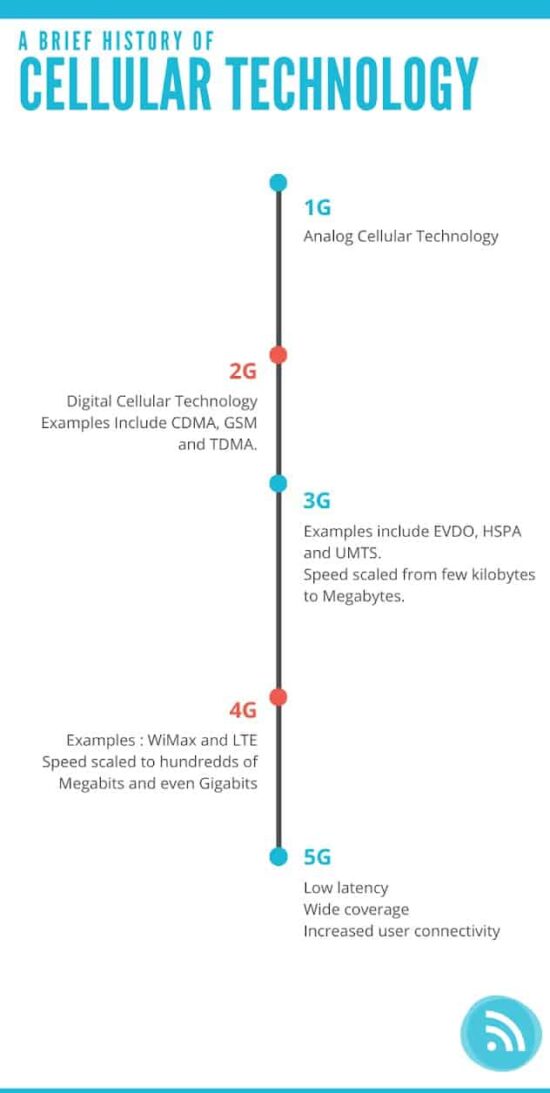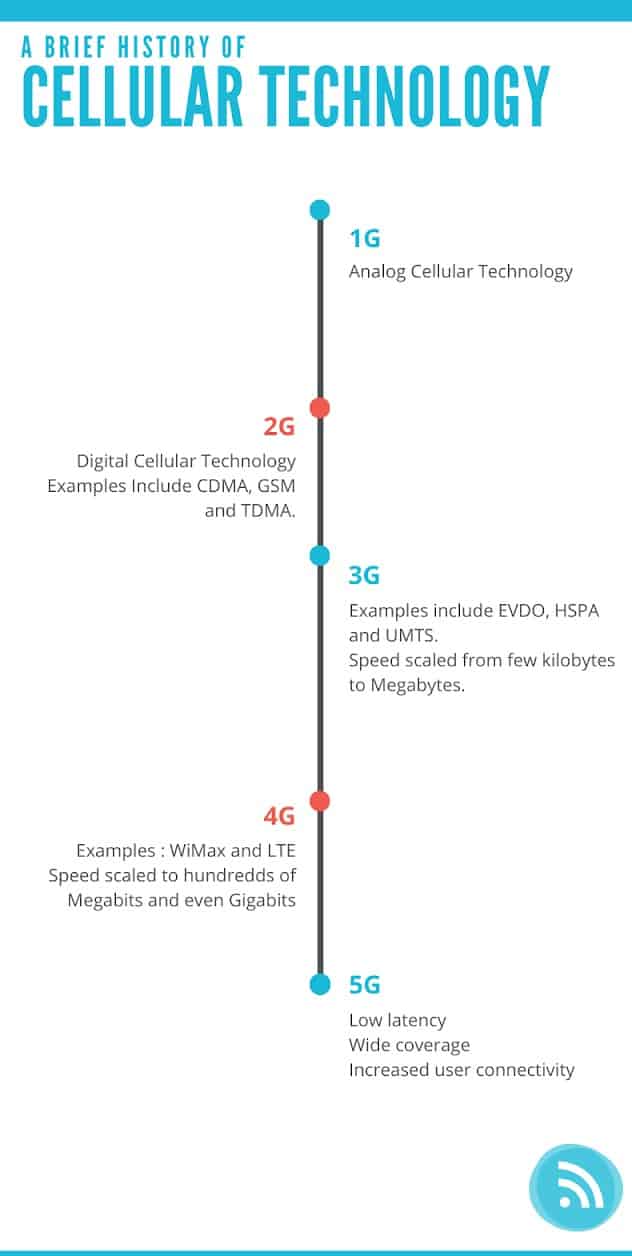 Conclusion
5G Radio system depends upon 4G infrastructure to nurture and mature the system. This method is called a non-standalone system (NSA).
5G cells are typically larger in size, this means that where 4g connections end, 5G signals continue to expand and populate the geographical area it's covering.
Also, The synergy between the 4G LTE and low to mid-band 5G has excellent scaling opportunities,
Also, 5G networks need to be AI optimized as they operate many cells and carry many more users when compared with existing technologies.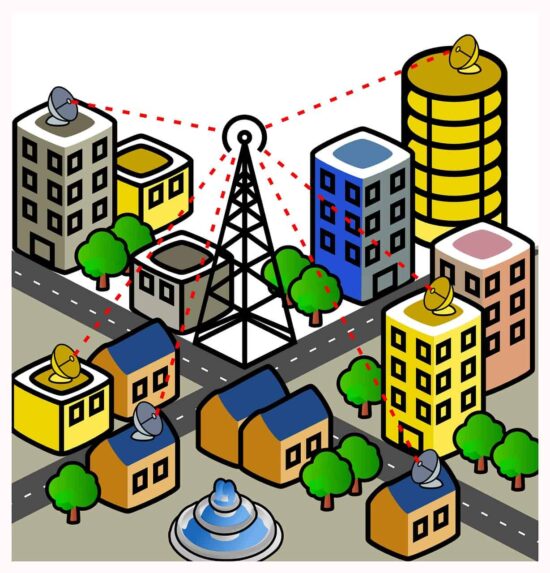 5G Applications
With the advancement of technology and nurturing of 5G networks into the existing infrastructure, the applications of 5G enabled technology will know no bounds.
Some of the Applications that will become supercharged by 5G are:
1. Mobile Surgery
Surgeons would be able to perform diagnostics and operate patients sitting afar just with the use of 5G enabled devices. Low latency and the high volume of data transfer will enable 5G to perform this feat instantaneously.
2. Self-Driving Cars
5G will enable cars to communicate and share information with each other in the blink of an eye. This will revolutionize the Auto Industry and will bring in a disruptive change across countries.
3. VR/AR
Creating state-of-the-art masterpieces and changing reality as we know it. 5G will alter the course of humanity for the better or worse. It is for us to decide.
4. Drones
Optimizing safety and control features of a drone with communication technologies, drones will be an integral part of the transport and logistics sector in the coming years.
5. Industrial IoT
Automating warehouses and deploying sensors to check wastewater and air quality by letting sensors communicate with each other. 5G can enable all these services.
Is 5G Network Dangerous for your Health?
Electromagnetic radiation has long been under the scrutiny of health professionals.
The effects have been inconclusive, so far.
5G uses radiofrequency radiation (RF) radiation to do its job. Many people cite the high-band air interface of 5G networks as causing nausea and inducing tissue-damaging effects in human beings.
There is no such evidence that relates to RF radiation causing ionizing radiation which causes cancer in humans.
Power lines, telecommunications, and WiFi are in the non-ionizing section of the electromagnetic spectrum. X-rays and Gamma Rays are ionizing in nature.
Is 5G Secure?
Huge amounts of data would be transferred from one place to another and with 1 million connections supported, 5G High-band is gonna become a major liability and a target for cyberattacks.
With increased IoT penetration, DDoS attacks will increase in proportion due to increased security loopholes.
Conclusion
5G technology is meant for the future. Also, The current technology of low-band is in extensive use and it is marginally better than 4G LTE.
Also, It took at least two years for the high-speed internet to incubate properly into what it is now.
Startups such as Snapchat, Facebook, and Uber wouldn't be possible if it wasn't for the 4G LTE
Also, 5G demands patience and innovation in the current hardware technology. From slow but responsive to fast but with limited cell size, 5G will change the world, albeit slowly.
Check out our Social Media Pages:
Signing off, #HasheFollowers
#TeamHashe Bids you Farewell and Good Health
Adiós, À bientôt, Ciao, Until Next Time
#HasheOut
Was this helpful?
Click on one of the buttons to rate this post. Your choice cannot be undone, but you can change your mind at any time.
Tags:
Last Modified: October 4, 2021 at 12:03 pm